Make the Future Happens Now.
Adapt, Innovate, Execute
Organisasi telah melewati masa adopsi terhadap situasi krisis yang terjadi. Saatnya para pemimpin organisasi berfokus pada strategi yang tepat dalam menghadapi tantangan-tantangan yang akan dihadapi anggota tim mereka.
Perubahan kebiasaan hingga cara kerja menuntut kita untuk merubah paradigma kita akan dunia kerja. Memaksa kita untuk keluar dari zona nyaman.
Ikuti Dunamis Webinar Series – Make the Future Happens Now. Adapt. Innovate, Execute. Dalam sesi selama 45 menit ini, para konsultan Dunamis akan berbagi insights dan keterampilan yang dibutuhkan agar Anda, tim serta organisasi Anda agar tetap dapat menjaga ritme kerja sekaligus mencapai hasil sesuai yang telah direncanakan.
Dunamis Webinar Series Event Details: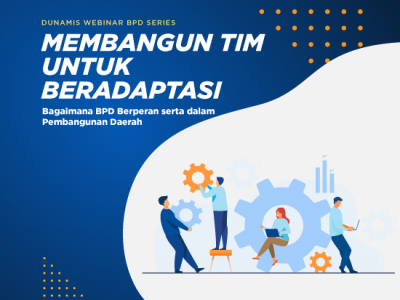 Membangun Tim Untuk Beradaptasi : Bagaimana BPD Berperan serta dalam Pembangunan Daerah (Khusus BPD)
with Budi Aryanto
23 April 2021 |  14.00 – 15.30   
Saatnya Pemimpin terus membangun kemampuan dan kebiasaan beradaptasi dari setiap anggota yang dipimpinnya agar dapat menghadapi setiap tantangan yang muncul. Mampu meningkatkan kinerja organisasi dan berkontribusi bagi Pembangunan Daerah.
Seberapa penting kemampuan adaptasi tim bagi peningkatan kinerja? Bagaimana peran pemimpin dalam membawa anggota timnya beradaptasi terhadap perubahan?
Temukan kunci rahasia memampukan tim untuk beradaptasi dan memperluas kontribusi BPD untuk pembangunan daerah dalam webinar ini.
ABOUT DUNAMIS
Founded in 1991, Dunamis Organization Services is an Indonesian professional services firm with a mission to "enable greatness in people and organizations everywhere"