Make the Future Happens Now.
Adapt, Innovate, Execute
Organisasi telah melewati masa adopsi terhadap situasi krisis yang terjadi. Saatnya para pemimpin organisasi berfokus pada strategi yang tepat dalam menghadapi tantangan-tantangan yang akan dihadapi anggota tim mereka.
Perubahan kebiasaan hingga cara kerja menuntut kita untuk merubah paradigma kita akan dunia kerja. Memaksa kita untuk keluar dari zona nyaman.
Ikuti Dunamis Webinar Series – Make the Future Happens Now. Adapt. Innovate, Execute. Dalam sesi selama 45 menit ini, para konsultan Dunamis akan berbagi insights dan keterampilan yang dibutuhkan agar Anda, tim serta organisasi Anda agar tetap dapat menjaga ritme kerja sekaligus mencapai hasil sesuai yang telah direncanakan.
Dunamis Webinar Series Event Details: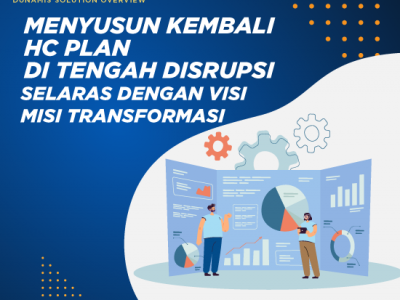 Menyusun kembali HC Plan di Tengah Disrupsi yang Selaras dengan Visi Misi Transformasi
with Zuli Astuti Devi
25 Juni 2021 |  14.00 – 15.30
Human Capital Plan (HC Plan) dapat membantu Anda memastikan bahwa organisasi Anda memiliki orang yang tepat di dalam tim. Di tengah disrupsi, HC Plan yang telah disusun mungkin sudah tak lagi relevan. Apakah ada permasalahan kinerja di organisasi Anda dimana di tengah tahun perjalanan ini target belum tercapai? Apakah dirasakan ada ketimpangan produktivitas dan beban kerja dirasa tidak seimbang?
Bisakah menyusun kembali HC Plan di tengah disrupsi? Apakah mungkin menyelaraskan HC Plan dengan visi misi transformasi? Dapatkan jawabannya dalam Dunamis Webinar kali ini.
Setelah mengikuti webinar ini, peserta akan:
1. Mengetahui kesenjangan antara kondisi pengelolaan HC saat ini dengan kondisi ideal di masa depan
2. Memahami pentingnya melakukan kajian identifikasi kebutuhan dan ketersediaan tenaga kerja saat ini dan masa depan
3. Mampu menyusun strategic workforce planning.
ABOUT DUNAMIS
Founded in 1991, Dunamis Organization Services is an Indonesian professional services firm with a mission to "enable greatness in people and organizations everywhere"