The New Science of Leadership
Grounded in 50 years of social science research, Influencer Training® goes beyond corporate perks and charismatic personalities to teach a method for changing ingrained human behavior.
Influencer Training is a leadership course that teaches proven strategies to drive high-leverage, rapid, and sustainable behavior change for teams and organizations.
MOTIVATE OTHERS
Leaders learn to master Six Sources of Influence™ that motivate and enable others to take initiative, think strategically, and improve performance.
TRANSFORM CORPORATE CULTURE
These essential behavior improvements create a cascading effect on corporate culture, resulting in successful team and organizational initiatives, reduction in project errors and failures, and high employee engagement.
So how can leaders stay ahead of the curve and differentiate themselves and their teams when so much is changing so quickly?
"Ideas can change the world, but only when coupled with influence–the ability to change hearts, minds, and behavior. This book provides a practical approach to lead change and empower us all to make a difference."
—Muhammad Yunus, Nobel Peace Prize Winner
"With Influencer, we've seen dramatic results in organizational behavior change."
–Matt Van Vranken, President, Spectrum Health
LEARN THE SKILLS OF THE WORLD'S GREATEST LEADERS
Any leader—senior, emerging, even those without formal authority—can replace persuasion and perks with powerful influence strategies and skills that actually change behavior. 
Identify crucial moments where enacting the right behavior will have an enormous effect on results.
DIAGNOSE WHY CHANGE SEEMS IMPOSSIBLE
Learn that persistent problems do not have one root cause, but multiple causes.
SOURCE 1: PERSONAL MOTIVATION
Make seemingly painful and undesirable behaviors painless and enjoyable.
SOURCE 2: PERSONAL ABILITY
Invest in deliberate practice to significantly enhance personal ability.
SOURCE 3: SOCIAL MOTIVATION
Enlist support from formal leaders and opinion leaders.
Harness the power of social pressure by finding strength in numbers.
SOURCE 5: STRUCTURAL MOTIVATION
Link rewards to Vital Behaviors.
SOURCE 6: STRUCTURAL ABILITY
Use the power of space, data, and tools.
TAKE YOUR LEADERSHIP TO THE NEXT LEVEL
Leadership is influence. Enable your leaders, or entire workforce, with the skills to execute behavior change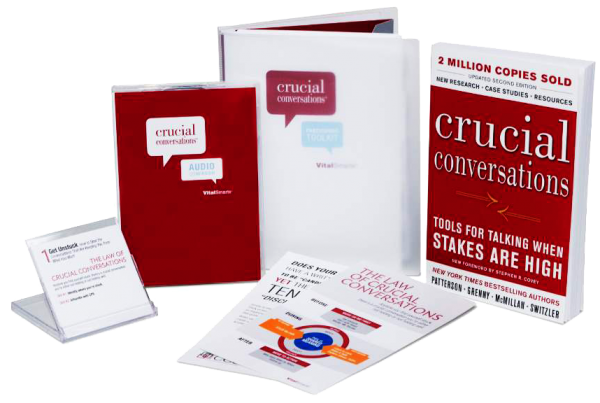 Crucial Conversations