The 7 Habits Teens Camp: Bisakah Remaja Anda Memimpin di Era Digital?
21-23 Desember 2023 | 15-17 Januari 2024
Target Peserta: Teens (Siswa SMP s/d SMA) | College Students (Mahasiswa Semester 1-8)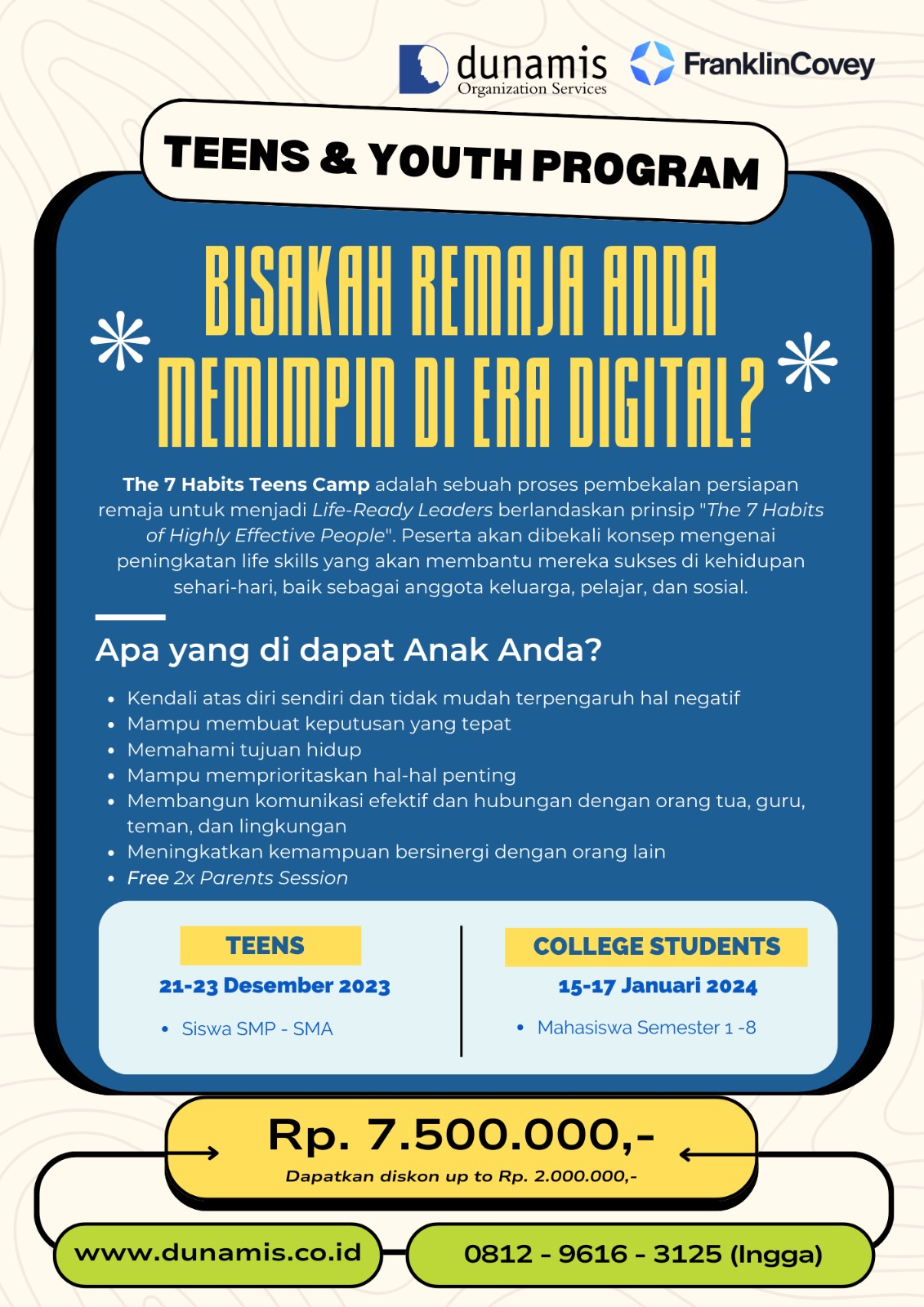 Era digital memberi peluang dan tantangan khususnya bagi remaja. Mereka dapat terkoneksi dengan jutaan remaja lainnya dari belahan dunia yang berbeda sehingga arus informasi dan budaya datang dari segala penjuru.
Apakah remaja kita sudah cukup dibekali dalam menghadapi tantangan di era digital dan perubahan pada 5 hingga 10 tahun mendatang?
Yuk bekali dan ajak remaja kita join "THE 7 HABITS OF HIGHLY EFFECTIVE TEENS CAMP" untuk siap dalam menghadapi tantangan dan perubahan! Dukung remaja kita untuk menumbuhkan potensi dan menjadi pemimpin bagi dirinya, keluarga, sekolah dan komunitas yang lebih luas.
Peserta akan dibekali konsep dalam meningkatkan life skills dari prinsip The 7 Habits of Highly Effective Teens yang dapat membantu mereka menghadapi tantangan. Tentunya program ini dirangkai dalam aktivitas-aktivitas yang seru!

Jangan sampai ketinggalan, kuota terbatas hanya untuk 20 peserta!
Untuk informasi lebih lanjut, hubungi 0812-9616-3125 (Ingga)
LISTEN AUDIO WEBCAST NOW: