Thrive During Unanticipated Challenges
We find ourselves in a new world with many of us being asked to work and lead very differently than we have in the past. Our routines have changed, and we must figure out new ways to be effective. The "day job" is consuming enough, then we introduce the additional pressures of reengaging with clients and taking care of employees—wherever they may be.
The lines that separated our personal lives from our work have also blurred more than ever, with additional concerns for health and family. And our "remote office" may now include a whole new cast of characters who want help with homework or a bit of attention while they practice social distancing.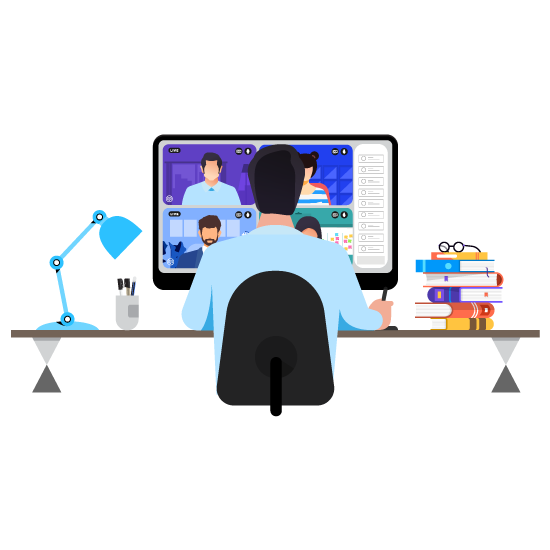 TIMES ARE CHANGING AND SO IS TRAINING
With the continuing rise of remote teams and demanding work schedules, many organizations are looking to virtual training as a flexible substitute for the traditional classroom. Rather than asking employees to step away from their roles for several days to learn new skills, L&D leaders are choosing to meet their people where they are.
Start your online learning journey with Dunamis Organization Services. Our online learning solutions will enable you to deliver an engaging, flexible, and effective learning experience that can scale to your entire workforce.
DUNAMIS LIVE ONLINE PROGRAM
During times of uncertainty, great organizations thrive and emerge stronger because they do four differential things:
They transition fear and uncertainty into engagement.
They engage in high-trust action with all stakeholders.
They put a massive focus on the most critical activities and avoid the thick of thin things.
They execute with excellence.
Within this unpredictable times, Dunamis Organization Services seek to enable greatness in people and organization by embedding those four powerful principles and equip people with tools and resources necessary to help organization improve their performance.
Using proven content and research, reinforced with multiple modalities, this proposal is delivered to make enabling greatness happen.
DUNAMIS PUBLIC TRAINING ONLINE PROGRAM
Our training events are hands-down the most engaging, challenging, and action-focused training experiences.
Experience an online work session with a certified Dunamis consultants. Increase your productivity, personal effectiveness, and leadership skills.
Find a program today and learn how you can improve performance and excel in today's market.
ABOUT DUNAMIS
Founded in 1991, Dunamis Organization Services is an Indonesian professional services firm with a mission to "enable greatness in people and organizations everywhere"