Surya Wibawa Isjwara
Chief Sales Officer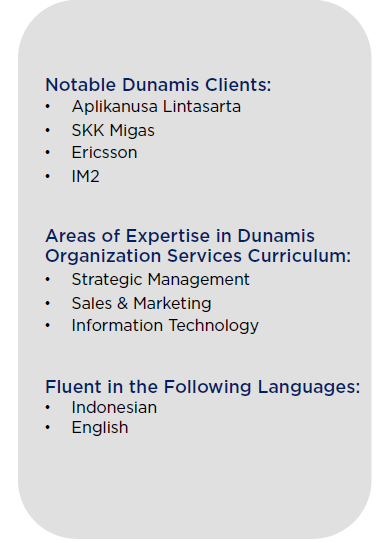 Surya Wibawa Isjwara is an individual who always like new challenges in various Industry. He is
passionate in sales and also in making business grow and sustain. He joined Dunamis Organization Services on May 16' 2016 as Chief Sales Officer.
Professional Qualifications
Surya has been exposed for more than 15 years through various process and roles. His strength in Leadership combined with his involvement in many function from sales, finance, marketing and operations resulted in well executed assignments.
Professional Experience
His professional career started in 2001 at PT. Astragraphia Information Technology where he was assigned three roles as System Architect, as an Expert Outsourcing Consultant for AGITS as well as Head of Management Service Business. Moving his career at PT. Microsoft Indonesia as Technical Account Manager, he worked closely with Customers and has strengthened him to be a good and trusted customer's
advocate which increases customers' satisfaction with Microsoft products and services. Surya has also served PT. Infinys System Indonesia as Business Development Manager where he managed the overall sales activity , creating marketing programs and managed partnership with various telecommunication companies. His latest career before joining Dunamis Organization Services was at PT. Niagaprima Paramitra as VP Director where he was responsible to manage the overall business which includes delivery execution and managing sales team
Education
Surya earned his Bachelor degree majoring in Information Technology and Computer Science with a Cum Laude from Sekolah Tinggi Teknik Surabaya in 2001. He was also awarder with 4 times Academic Achievement Scholarship
ABOUT DUNAMIS
Founded in 1991, Dunamis Organization Services is an Indonesian professional services firm with a mission to "enable greatness in people and organizations everywhere"